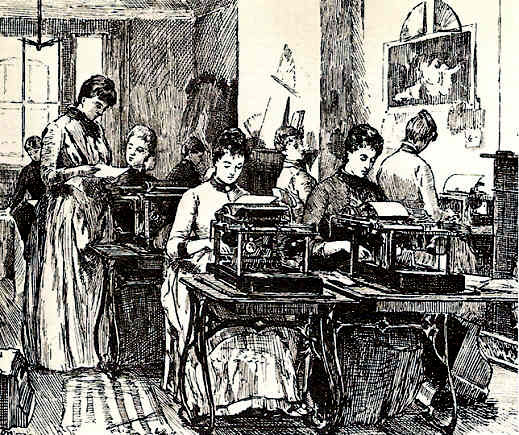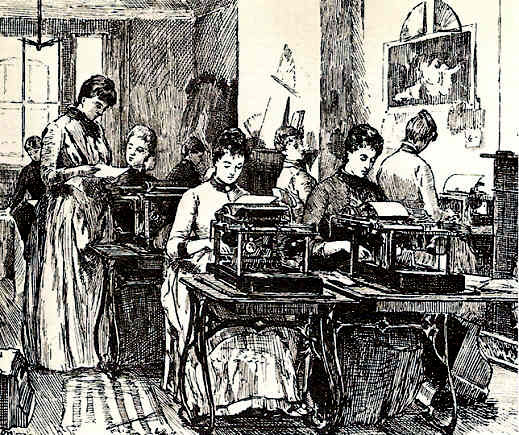 From the 1870s until well into the 20th century women were employed exclusively in clerical roles of a repetitive nature, such as copying letters and filling in forms. Male clerks initially feared for their jobs but in 1874, three years after the first female clerks were employed, the Director of the Prudential put it thus:
"[Female clerks] would not in any way prevent a fair development of male clerks. There had been an unusually large number of male clerks appointed last year, and the lady clerks were doing a class of work that they could not get satisfactorily done by the male clerks." (Anderson, 1989)
Employing women – who were obliged to leave work on marriage – actually had an effect contrary to those fears: it allowed boy clerks to climb the ladder whilst maintaining a much needed cheap workforce focusing just on menial tasks.
Women worked long days having to meet strict production quotas and kept completely segregated from men.
Those tasks were demanding: for example at the London, Edinburgh & Glasgow women had to work long days at high desks and sit on uncomfortable stools; they were required to meet strict production quotas whilst being closely supervised by a senior clerk – who would penalised them even if arriving only a few minutes late. Working hours were from Monday to Friday from 10 till 5 with a half-hour lunch (provided by the company), and Saturdays from 9 to 1. The Prudential was slightly better as it provided an hour's lunch-break, cane seated chairs and a library with over 300 volumes, providing reading material for its staff in their limited free time. (Anderson, 1989)
Etiquette demanded women worked in departments entirely separate from the men – although this wasn't the case for all trades, segregation was strictly observed by insurance employers. Female insurance clerks entered and left the building through a dedicated entrance and worked different hours from the men, keeping them from seeing and being seen by their male counterparts. This arrangement made it easier for employers to keep them focused on dull work.
Clothes were a concern too. As the Secretary of Country Fire put it in July 1916: "The Secretary trusts that the young ladies engaged in the Office will not take it amiss if he suggests the desirability of adopting as far as possible uniformity in their attire, as being more business-like and in keeping with the appearance of officials in a public office. A dark skirt with blouse (black or white in preference) is the proper costume, and superfluous jewellery is out of place." (Cockerell, 1980)
Many employers adopted the solution of supplying overalls, often in dark blue or green, as you can see in the image below: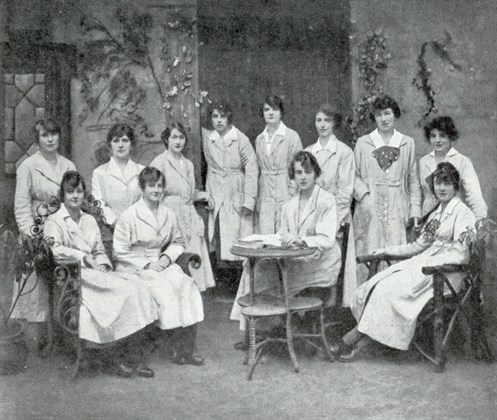 But women choosing to go into employment had to work against another type of hindrance: challenging the Victorian notion of gender roles. The domestic ideology which divided society into the public and private spheres dictated that men go out to work, make money and support their families; while women were obliged and expected to stay at home, and to create a haven for themselves and their children, and for their husbands to return to at the day's end.
Women choosing to work had not only to accept fewer opportunities than men, but also challenge the Victorian notion of gender roles.
So even though women had always worked – as spinners, dressmakers, embroiderers etc., and in addition to housekeeping and child-rearing – these activities were performed out of sight of society, in the privacy of the home. Controversy arose from the public appearance of wage-earning, working women in male-dominated environments, and from the assumption about the inherent nature and function of women in society – marriage and motherhood.
Office work was seen as 'unfeminine', to the point where middle-class families felt embarrassed by female relatives who chose to work and earn, like a man.
References
A Sense of Security: 150 Years of the Prudential, Laurie Dennett, London: Granta Editions, 1998
The White Blouse Revolution: Female Office Workers Since 1870, Gregory Anderson (ed.), Manchester: Manchester University Press, 1989
Women in England 1769–1914: a Social History, Susie Steinbach, Phoenix, 2005
Women in Insurance, Hugh Cockerell in CII Journal, London: CII, 1980